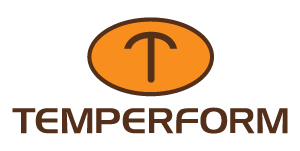 Temperform
Steel & Iron Sand Casting
Phenolic Urethane "No-Bake" Sand Molding

This process incorporates production flexibility, minimal tooling costs, small to large run manufacturing quantities and high quality finishes on produced castings.

Shell Molding

This process utilizes a thermally activated resin bonded sand yielding castings with superior as-cast finishes, excellent dimensional stability, and provides capability for high production quantities.

Ceramic Molding

This process utilizes a special blend of sands which are then subject to a specialized baking process which yields castings with dimensional stability and surface finishes similar to those obtained with the lost wax process.
Alloys Poured
Heat Resistant
Corrosion Resistant
Abrasion Resistant
Nickel Base Alloys
White Irons
Ni-Hard Irons
Tool Steels
Low Alloy Steels
Engineered Alloys
A technical staff with 60 years of steelmaking experience to tailor the alloy best for your specific application.